The Five Senses (1999)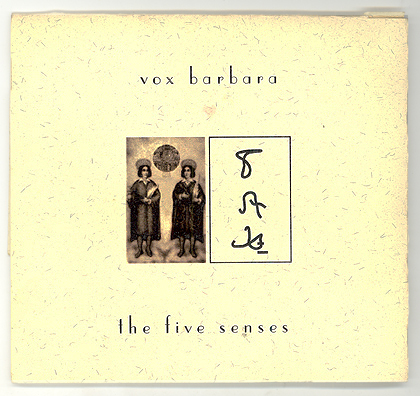 "The Five Senses" was originally recorded and released on cassette tape in 1996; it was remixed and remastered in 1999 and released on CD.
The music on "The Five Senses" is an interpretation of the 1797 mystical novel "Ravings of a Madman" by Anaitre Tellsos. You can read about the novel and its unique view of the world here. Production and packaging credits for the album can be found here.
The CD was packaged in a hand-folded, glued cover made with thick, textured paper. A booklet featuring text excerpts from various sections of the novel and quotes of dialogue spoken by its characters, which are conceptually tied to each track on the album, was included with the CD. By following the links under each song title (see below), you can read these quotes and text excerpts. Both the audio controls for the tracks and the scans of the booklet pages will open in their own windows, so you can view the text and quotes while listening to the pieces. No music, of course, can be entirely programmatic. The novel was merely an inspiration, a source of impressions and guidelines for the fashioning of the sonic landscape of "The Five Senses."