The 2001-2 Asia Travel Xeen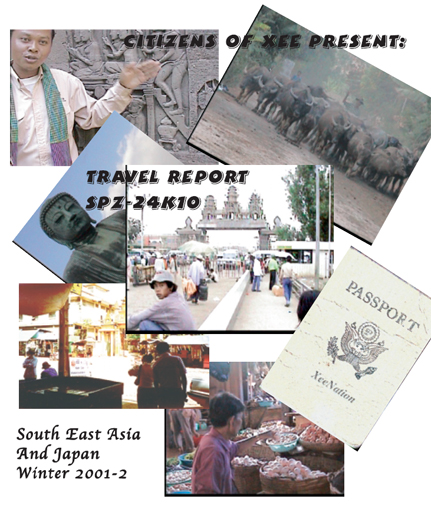 In December 2001 and January 2002 Marchette and Frank, as they were wont to do in those days, journeyed to Cambodia, Thailand, Laos (just Frank) and Japan (just Marchette).
The results were assembled and edited by Marchette into a xeen for your edification. You can view (and listen to) this xeen in two ways: by choosing the "Asia Xeen: Web Version," you will open a PDF of the xeen in your web browser (or using an outside application, however you have things set up). By clicking on a photo in the xeen which is accompanied by the "page icon":

...you will be able to watch a movie (in Quicktime or .MOV format) in your web browser (or however you have things set up in your browser). Note that you must have Quicktime installed on your computer to do this. If you have a Windows machine that doesn't have Quicktime, you can download it for free at the bottom of this page.
If you'd prefer to download the PDF of the xeen (about 3 Mb) to your computer, you may do this by right-clicking on the appropriate link below. However, once the xeen lives on your computer, if you want to view any of the videos, you'll need an active internet connection to do so. Pretty coolio, ey?
But wait! There's another way to enjoy the xeen: by choosing the link "Asia Xeen ISO," you can download a disk image of the xeen including all of the video files, for burning to a CD on your computer, or simply by opening the disk image (with a program like Alcohol 120% or anything else that lets you "virtually mount" a CD disk image on your computer) and opening the PDF file of the xeen. Note that while you'll see the same yellow page icon by the photos which link to videos in this version, in this case you will not need an internet connection to view the videos, as they will be living on your very computer. Note that the ISO file is rather large, about 580 Mb.