Archaeology and Airplanes (1995)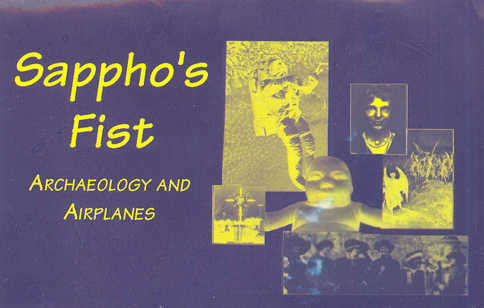 "Archaeology and Airplanes" was Sappho's Fist's first album, released on cassette tape. Much of the material on it, however, had previously been sent to radio stations, record labels and zines as an unpackaged cassette labelled "Frank Smith and Amy Kirk."
The centerpiece of the album is the three-part meditation on the life of Amelia Earhard, "The School of Velocity." Unfortunately, only Part I remains in my possession today, so that's all you can listen to here. Similarly, the audio for "Invalid Request" and "We are Different" is also missing in action. You can, however, hear an extended live version of "Invalid Request" on the main Sappho's Fist page.
Parts II and III of "School of Velocity" are very different from the first; they feature percussion, Amy's voice, Michelle Damato reading and singing Amy's words, and a variety of samples from a documentary on Amelia Earhart's life. Hopefully someday we can provide them here for your listening pleasure.
Fazoub - 6:48
Invalid Request - 2:26
We Are Different - 7:53
The School of Velocity, Part II: Gods from Outer Space - 17:10
The School of Velocity, Part III: Shouting Philosophy - 15:23
Return to the main Sappho's Fist page